Grand celebration Folk dances and sons, drums and guitar, colorful costumes and ethnic jewelry, different languages and national cuisines
Grand celebration Folk dances and sons, drums and guitar, colorful costumes and ethnic jewelry, different languages and national cuisines
Starting this week, Peoples' Friendship University (RUDN) Main Square has continued to struggle to cultivate a sense of place and that's part of what makes a grand opening of celebration so exciting.
International students' folk festival "Planet South West" brought together hundreds of talented, active, creative people for the past 30 years. It has created a great destination that shows off the best of RUDN and draws audience to enjoy the university center.
Foreign communities of RUDN University showed their national customs, traditions, languages, clothes and cuisines. Visitors and participants of the Festival could try and taste fried black caterpillars of the Congo, Moroccan couscous, Peruvian coffee and other national dishes and drinks.
2016 edition hosted guests and festival goers - students, professors and graduates of the People's Friendship University, participants of the All-Russian Congress of Russian Association of International Students, representatives of Moscow South West universities and schools, diplomats and just friends of the university. It also featured a whole host of special guests - Second World War veterans.
Festival "Planet South West" was first held in 1987. And every year the celebration has become larger and more attractive to visitors. Festival has become the leading destination, having a truly unique character and turning to be more attractive than an early time.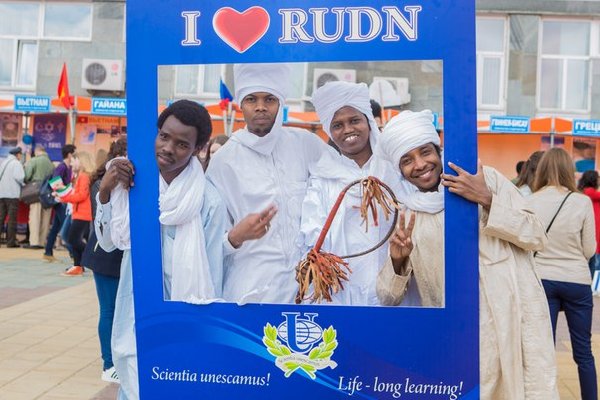 Education
22 Feb 2017
International scientific-practical conference dedicated to the 100th anniversary of the birth of Nikolai Sergeevich Prostakov
On February 19, in 2017, Nikolai Sergeyevich Prostakov would have turned 100 years old.
Life in RUDN
16 Mar 2017
Dear entrants, students and alumni, meet the English-speaking channel in YouTube – RUDN University Planet
Dear entrants, students and alumni, meet the English-speaking channel in YouTube
Life in RUDN
12 Mar 2018
Student from SAR becomes Mister RUDN Association of African students - 2018
2 March, RUDN chose the King of Africa or Mister RUDN Association of African students – Zim Sankvella (SAR), first-year student of the Agrarian and Technological Institute who won over students from Cameroon, Chad, Namibia, Angola, Ethiopia and SAR. Vice-Mister was Binga Medesh (Angola), third place was taken by Naftalu Kuume (Namibia).