RUDN University - in the TOP - 300 of THE Impact Rankings 2020
The Times Higher Education (THE) published a rating assessing universities against their impact on society - THE Impact Rankings 2020. RUDN University first participated in this rating and took a place in the range 201-300. RUDN got the highest score for the "Decent work and economic growth" SDG, ranking 45th among world universities.
The ranking takes into account the results for the four Sustainable Development Goals (SDGs), which scored the most points; SDG 17 "Partnership for the goals" is mandatory.
RUDN has the best result in "Decent Work and Economic Growth" (SDG 8) - 45th in the world. Also taken into account were "Good health and well-being" (SDG 3), "Peace, justice and strong institutions" (SDG 16).
The rating reveals how successfully universities work on the implementation of the goals set forth in the UN General Assembly resolution of September 25, 2015 "Transforming our world: the 2030 Agenda for Sustainable Development". The document is characterized by a systematic and balanced approach to all three components of sustainable development: economic, social and environmental.
In total, 766 universities from 85 countries have been ranked.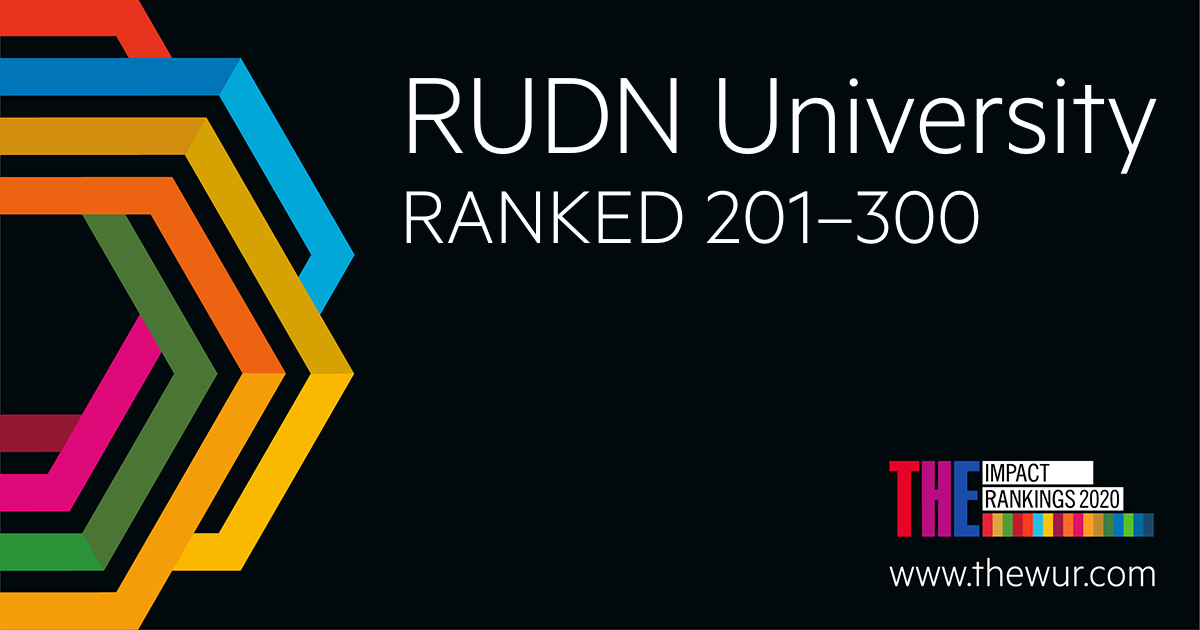 About RUDN
12 Mar
RUDN University is in the top 200 universities in the Times Higher Education ranking Emerging Economies 2021
Peoples' Friendship University of Russia is among the top 200 universities according to the Times Higher Education Emerging Economies University Rankings 2021 (THE Emerging Economies 2021).
Only 606 leading world universities were honored to be on the list.
About RUDN
05 Mar
RUDN University's new successes in the field of modern languages, law, oil and gas business, and computer science ... The university strengthens its position in 11 QS rankings
The QS ranking agency has presented the QS WUR by Subject 2021 rankings — lists of the best universities in the world in specific subjects. RUDN has shown rapid growth in the areas of "Modern Languages", "Linguistics", "Mathematics", "Economics and Econometrics" and "Chemistry", and for the first time entered the list of the best in the world in the subjects "Oil and Gas Business", "Law", " Business and Management ", and "Computer Science".
About RUDN
25 Dec 2020
RUDN University is in the Top 50 of the QS University Rankings: Emerging Europe & Central Asia 2021
RUDN University is on the 43rd place in the QS University Rankings: Emerging Europe & Central Asia 2021. Peoples' Friendship University of Russia has shown the best results in the following categories: international students , student/faculty ratio, institution research collaboration and recruiter review.