State national exam for migrants. Harmonization of federal and regional testing systems- a must for transparency and maximal effectiveness of foreign citizens' socio-cultural adaptation in the RF
State national exam for migrants. Harmonization of federal and regional testing systems- a must for transparency and maximal effectiveness of foreign citizens' socio-cultural adaptation in the RF
Russian language experts, historians, lawyers and representatives of more than 150 local testing centers met in RUDN University to work out recommendations for the Russian language
Russian language experts, historians, lawyers and representatives of more than 150 local testing centers met in RUDN University to work out recommendations for the Russian language, Russian history and RF legislation basics complex testing in the frame of the conference "The Russian language and challenges of socio-cultural adaptation of foreign citizens in the RF"
June 2, RUDN hosted IV All-Russia conference конференция "The Russian language and challenges of socio-cultural adaptation of foreign citizens in the RF" held together with the RF Ministry of education and science.
Testing is supposed to be not only a control tool but also an effective mechanism of migrants' socio-cultural adaptation and urge people abroad to study Russian language and culture.
Opening the conference Rector V.Filippov noted that tolerance in the Russian society means not just standing somebody but actually involves intercultural and interethnic consensus.
It was proposed to create a unified data base of all testing centers with similar accreditation rules, testing material and testing results
The experts elaborated concrete recommendations for the testing of people applying for permanent residence card.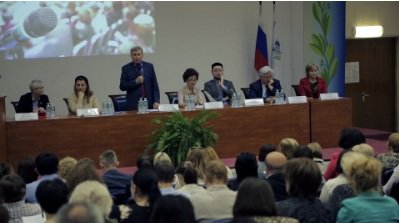 About RUDN
25 Dec 2020
RUDN University is in the Top 50 of the QS University Rankings: Emerging Europe & Central Asia 2021
RUDN University is on the 43rd place in the QS University Rankings: Emerging Europe & Central Asia 2021. Peoples' Friendship University of Russia has shown the best results in the following categories: international students , student/faculty ratio, institution research collaboration and recruiter review.
About RUDN
09 Dec 2020
RUDN University is the only Russian university in the top 50 of UI GreenMetric world ranking
December 7, the results of UI GreenMetric 2020, the world ranking of the environmental sustainability of universities are presented. RUDN University is the only Russian university that entered the top 50 ranking, taking 42nd position among 912 universities in the world, and once again confirming the position of the "greenest" university in Russia. RUDN University is also recognized as the most active national coordinator of the UI Greenmetric World University Rankings network. Only one university in the world receives this award every year.
About RUDN
02 Nov 2020
RUDN chat in WhatsApp
RUDN started an official chat for you to ask about enrolment in RUDN, studies, accommodation, as well as order a certificate or find contact information.