Diploma for export: a Nepalese medical doctor became RUDN Graduate #100,000
22 June, RUDN Rector Vladimir Filippov conferred Diploma 100,000 on Bhattarai Hari from Nepal, who graduated RUDN Medical Institute with honors.
22 June, RUDN Rector Vladimir Filippov conferred Diploma 100,000 on Bhattarai Hari from Nepal, who graduated RUDN Medical Institute with honors.
Bhattarai has been dreaming to become a doctor all his life. When he was 18, he took part in a contest for school students to win a scholarship of the Nepalese government to study medicine abroad. He won and chose RUDN, a famous university a lot of friends and relatives had recommended.
There are more than 7,500 international students from 154 countries studying at RUDN mostly majoring in medicine, law, dentistry, linguistics, international relations, philology, economics, civil engineering, oil and gas business and pharmaceutics. A lot of students come to study agronomy, maths, physics and chemistry. The countries sending most students are China, Vietnam, Syria, Namibia, SAR, Nigeria, Afghanistan, Mongolia, Cote d'Ivoire and Columbia.
The selection of candidates for the nomination "RUDN Graduate 100,000" was done in 2 stages – dozens of candidates were suggested by faculties and institutes and 9 were finally chosen. Each of them made a video presentation of his or her achievements. Members of the Academic Board chose the best.
Our hero came to Russia in October 2010." I didn't know a word of Russian and I thought that Russians never smile. Students from Nepal met me in the airport. I was stunned when I first saw Moscow! I was very impressed by the different colors of the leaves on the trees- it was amazing! What I missed a lot was my usual food especially fresh mango, but we cooked various national dishes. Russians turned out to be very friendly and hospitable people"
In the near future RUDN Graduate 100,000 has serious plans - go back to Nepal, take a professional test, get a license and work. "After I will go to residency and later do my PhD", he says. "I am dreaming of becoming a cardiologist in a state clinic in Nepal and later also teach at a university"
"A doctor should convince patients that they will win over the disease. The Russian diploma will help me save lives in Nepal", Bhattarai Hari, RUDN Graduate #100,000.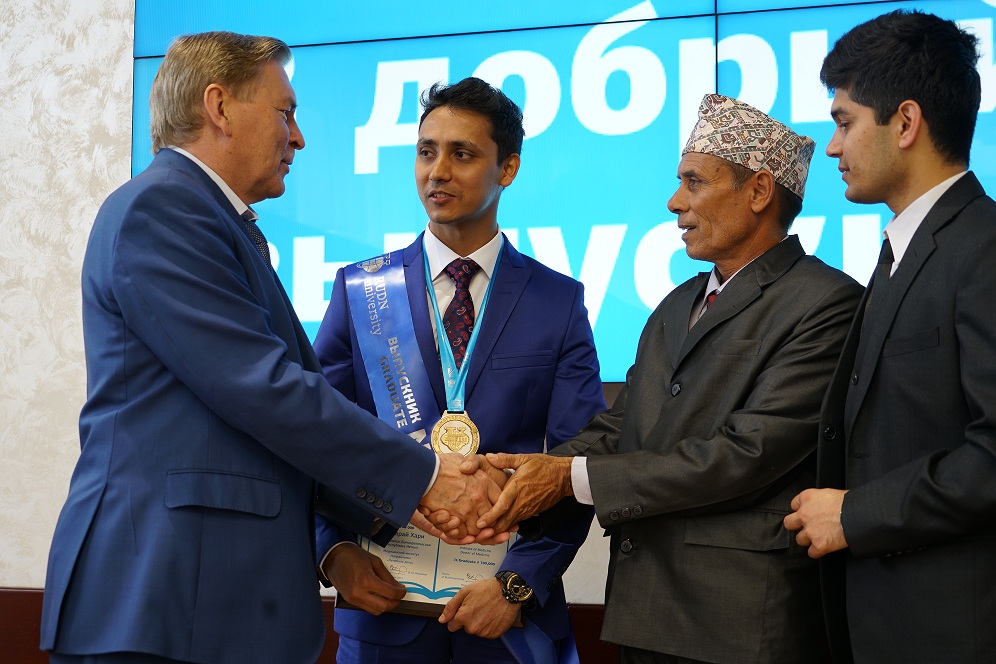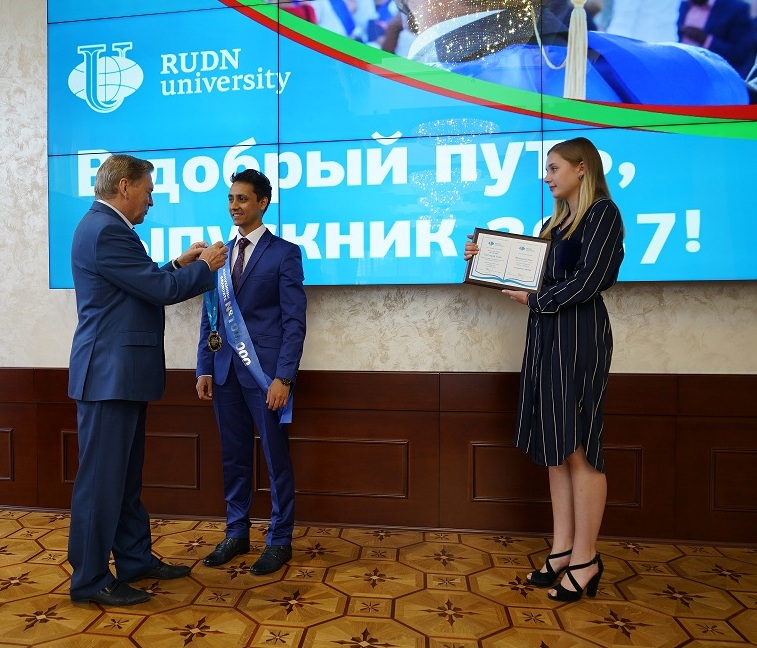 Alumni
20 Oct
"I still have a lot to learn", Anna Subbotina, RUDN University graduate
Anna Subbotina, a graduate of the Faculty of Philology of RUDN University, has gone from a volunteer translator to an advisor to the executive director of the Russian Union of Martial Arts on international issues. Read about career, knowledge of foreign languages and studies in an interview with Anna.
Alumni
11 Aug
"I want to fully devote my life to science!" - Adou Kpangny Yves Berenger, graduate of RUDN University No. 500 from Cote d'Ivoire
"Mathematics and information technology — this is difficult. Speaking three languages is also difficult. But I quickly adapt to difficulties, I love to study and learn new methods and modern technologies," says Adou Kpangny Yves Berenger, alumnus No. 500 from Cote d'Ivoire, about studying at RUDN University and about science in his life.
Alumni
24 Jul
RUDN University graduates are awarded Letters of Gratitude from the Ministry of Education
Nine graduates of RUDN University were awarded Letters of Gratitude from the Minister of Science and Higher Education of the Russian Federation. The Rector of the university Oleg Yastrebov handed letters to the graduates and thanked them for their active participation in student life, labor, social and scientific activities.