International Olympiad of the "Global Universities" Association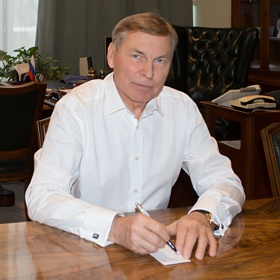 Dear foreign students of RUDN University and other universities in Russia and abroad!
I welcome you at the page of International Olympiad of the «Global Universities» Association for applicants of master programs held by RUDN together with other leading universities of Russia! Every Olympiad is a unique chance to show yourself, test your opportunities and apply accumulated knowledge in solving practical problems. Winning in the Olympiad of the «Global Universities» Association means that you do not only receive a unique opportunity to study in one of the leading universities in the country, but also build a solid grounding for a rewarding career in the chosen sphere.

I hope to see you among our students!
Rector of the RUDN University
Academician of the Russian Academy of Education, Doctor of Physical and Mathematical Sciences, Professor
Who can participate
Foreign citizens, stateless persons, and compatriots living abroad who already have a Bachelor's degree or get a Bachelor's degree in 2020.
Olympiad prize-winners
Top 25% participants with the highest score (after two rounds) on the ranked list
Languges
Russian and English
Schedule
Олимпиада проходит полностью дистанционно, в два этапа: конкурс портфолио и выполнение олимпиадных заданий.
Registration
Hurry up to register and fill out all the information you need to participate in the Open Doors.
Portfolio filling
Prepare your portfolio. All research papers, certificates, awards and honors that you have ever received are of value. Please include all achievements in the selected subject area in your portfolio to increase your chances of success.
Deadline for portfolio submission
You will not be able to edit your portfolio after the deadline. While waiting for the result of your portfolio review, you can use a system of automatic assessment to estimate your approximate score. The system will be available in your personal account.
Grading of the portfolios
Announcement of the portfolio competition results
Final round
Winners of the portfolio competition are welcome to participate in the final round in the selected subject area.
Grading of the final round of the competition
Announcement of the final round results
Appeal process
Announcement of the Open Doors winners
Профили олимпиады
"Biology" profile
"Computer & Data Science" profile

Fundamental computer science and IT
Management in technical systems
Architecture
"Mathematics & Artificial intelligence" profile

Mathematics

Land Management and Cadastres
"Business & Management" profile
"Politics & International Studies" profile
"Psychology" profile
"Physics" profile

Operation of transport and technological machines and complexes

Power engineering

Design and technological support of machine-building production

Nanotechnology and microsystem technology

Geology
"Linguistics & Modern Languages" profile

Linguistics
"Chemistry" profile
"Economics" profile
Contact details of the organizing Committee of the Olympiad
Address: Moscow, Myasnitskaya, 20. E-mail: opendoors@globaluni.ru. Website: od.globaluni.ru
International Students Support and Recruitment Department
Director
Spiridonova Elena
+7 (499) 936-85-15 ext.: 1609 intstudent@rudn.ru
Office for European & American countries
+7 (495) 433-73-96; +7 (985) 120-36-82 ext.: 1192 america@rudn.ru
Office for Asian countries
+7 (495) 787-38-03 ext.: 1784 asia@rudn.ru
Office for African countrie
+7 (495) 433-73-87 ext.: 1321 africa@rudn.ru
Office for Middle East & North African countries
+7 (495) 433-73-97; +7 (909) 675-69-46 ext.: 2185 mena@rudn.ru
Office for CIS and Baltics countrie
+7 (499) 936-85-62 ext.: 2562 cis@rudn.ru
Education
18 May
"I spend about 14 hours a week on checking one assignment in one discipline. It's almost 2 full working days, " says Daria Kapralova, Ph.D. in biological sciences, senior lecturer, Department of Environmental Monitoring and Forecasting, RUDN University
Education
18 May
"The doctor should not be afraid to stain the coat": medical students pass their main exam
About how the practice was organized for medical students of the 4th and 5th years, which residents were "hired" back in March and which exam is the main one for the final year students - in an interview with Alexei Abramov, MD, professor, director of RUDN University Medical Institute.
Education
27 Apr
"I miss those moments when you see a question in the eyes", assistant professor Pavel Davydenko
"The very name of the form of training – "full-time" (ochny in Russian) - means the opportunity to teach, looking in the eyes (ochi in Russian)." Do you think these are the words of a philosopher or a philologist? They are not. This is engineer Pavel Davydenko, assistant professor of the Department of Mechanic and Instrument Engineering, RUDN Engineering Academy. In distance teaching he uses his son's toys to explain the principle of gearing and manipulators of industrial robots. And the daughter gives him room at her desk after she takes online lessons at school.