«It is in Gadjah Mada University, where the creation of Peoples' friendship university was first announced» – RUDN Rector Vladimir Filippov met Indonesian colleagues
«It is in Gadjah Mada University, where the creation of Peoples' friendship university was first announced» – RUDN Rector Vladimir Filippov met Indonesian colleagues
28 November, the delegation of Gadjah Mada University (Indonesia) headed by Rector Prof. Ir. Panut Mulyono visited RUDN University. The parties signed a Memorandum of mutual understanding and agreed on academic and scientific cooperation.
It is in Gadjah Mada University, where the creation of Peoples' friendship university was first announced. The historical partners are ready to strengthen relations for joint solution of global challenges of higher education. It is planned to activate academic exchange. The Indonesian side stressed that the country is interested in exchange of historians, sociologists, philologists and international relations specialists, bit the major interest is physics. «We should work out criteria of selecting best students and determine prospective cooperation directions», said professor Filippov.
A number of documents were signed after the meeting, including a memorandum of understanding and a cooperation agreement. The first active steps will be made in 2018.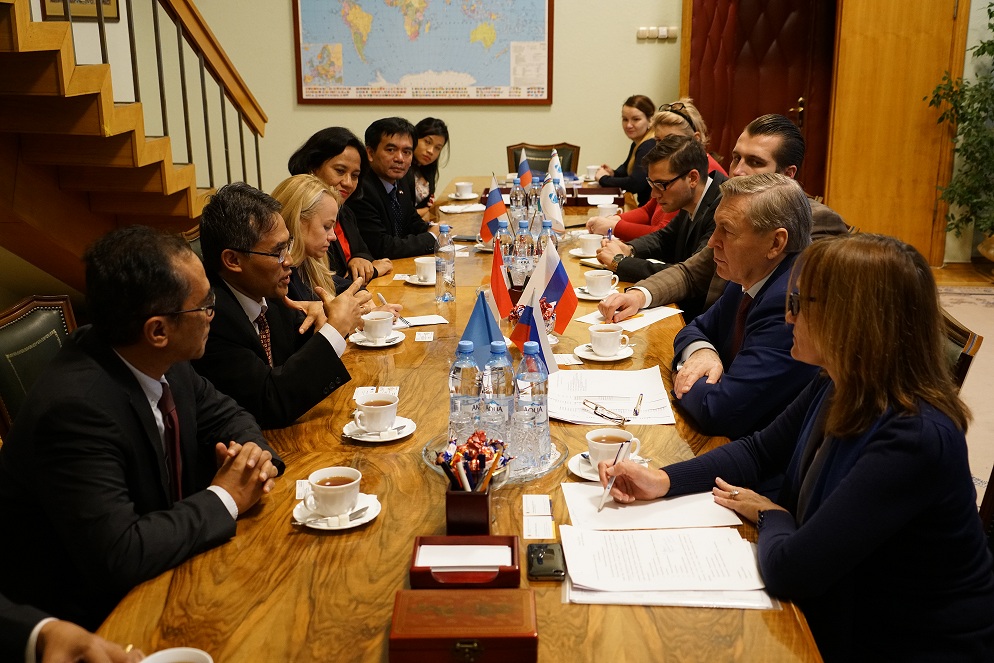 International cooperation
04 Jun
RUDN University took part in EUCEN General Assembly
The Annual General Assembly of the European University Continuing Education Network (EUCEN) was held on May 29, 2020 in a video conference format. On behalf of the RUDN University representatives of the Vice-Rector for International Activities' office participated in the meeting.
International cooperation
29 May
RUDN helps Rosatom to develop cooperation with Africa
In Rwanda, Uganda and Ethiopia representatives of RUDN University and ROSATOM held open lectures on the features of Russian higher education in the field of nuclear energy.
International cooperation
21 May
Meeting of the National Coordinating Committee of the BRICS Network University
On May 20, 2020, RUDN University hosted an online meeting of the National Coordinating Committee (NCC) of the BRICS Network University. The meeting was attended by representatives of the Ministry of Science and Higher Education of the Russian Federation, as well as Russian universities participating in it.