Representatives of RUDN in the delegation of the RF Ministry of Education and Science in Beijing (China) on a working visit
Representatives of RUDN in the delegation of the RF Ministry of Education and Science in Beijing (China) on a working visit
July 16-17, staff of RUDN International Service as part of the delegation of the RF Ministry of Education and Science headed by I.Ganshin, Director of the International Department visited Beijing in the framework of implementation state task "Scientific Methodological and Regulatory Support for the Activities of Scientific and Educational Cooperation in the period until 2020".
During the talks in the Ministry of Education of the PRC with the Deputy Director of the Department of International Cooperation, Li Hai the parties discussed preparations for the 19th meeting of the Russian-Chinese intergovernmental commission for humanitarian cooperation, the 18th meeting of the Russian-Chinese subcommittee for cooperation in the field of education and the working group on interaction in the study and teaching of Russian and Chinese languages, development of bilateral academic exchange and scientific cooperation of
universities. Special attention was paid to the forthcoming exhibition China Education Expo, held in October 2018, in 4 cities of China: Beijing, Chengdu, Guangzhou, Shanghai with the participation of leading Russian universities.
Also the Russian delegation visited the headquarters of the Secretariat of the Shanghai Cooperation Organization to meet Aziz Nosirov, Deputy Secretary General of the SCO and Bandar Wilsonbab, Permanent Representative of India in the SCO Secretariat to discuss issues of the work of the SCO member states permanent working group on education and the regulatory and legal framework for the functioning of the SCO. RUDN Vice-Rector for international affairs Larisa Efremova and Mr.Wilsonbab discussed issues of cooperation with India within the framework of the SCO and prospects for the entry of Indian universities into the network university.
For reference:
RUDN University is a member of the SCO University and serves as its Rectorate. By the decision of SCO University Rectors' Board, Rector of the SCO University is the Rector of Peoples' Friendship University of Russia, Vladimir Filippov.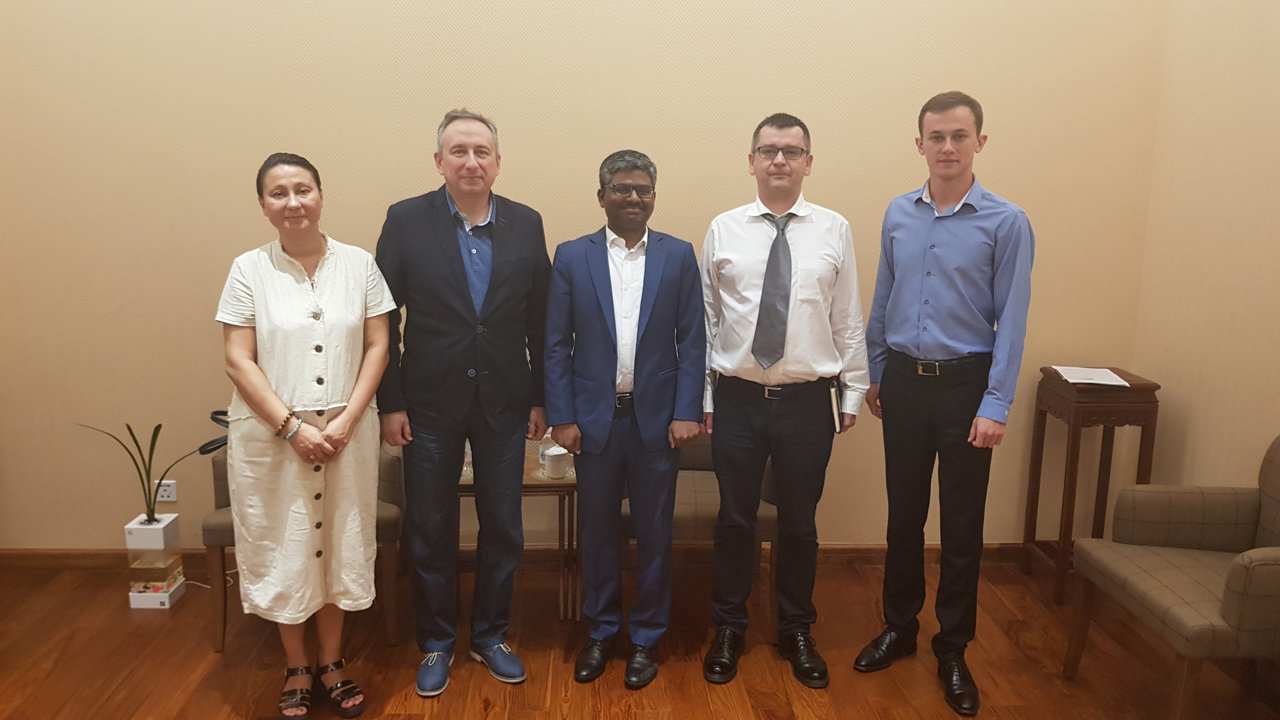 Education
22 Feb 2017
International scientific-practical conference dedicated to the 100th anniversary of the birth of Nikolai Sergeevich Prostakov
On February 19, in 2017, Nikolai Sergeyevich Prostakov would have turned 100 years old.
Life in RUDN
16 Mar 2017
Dear entrants, students and alumni, meet the English-speaking channel in YouTube – RUDN University Planet
Dear entrants, students and alumni, meet the English-speaking channel in YouTube
Life in RUDN
12 Mar 2018
Student from SAR becomes Mister RUDN Association of African students - 2018
2 March, RUDN chose the King of Africa or Mister RUDN Association of African students – Zim Sankvella (SAR), first-year student of the Agrarian and Technological Institute who won over students from Cameroon, Chad, Namibia, Angola, Ethiopia and SAR. Vice-Mister was Binga Medesh (Angola), third place was taken by Naftalu Kuume (Namibia).