RUDN and Porto University signed an agreement on cooperation in science and education
RUDN and Porto University signed an agreement on cooperation in science and education
17 September, the delegation of the University of Porto headed by Professor Maria Ramus, Vice-Rector for research and development, came to RUDN University.
At a meeting with Rector Filippov an agreement on cooperation in science and education was signed. The parties agreed to elaborate dual-degree Master programs in chemistry and IT to be started September 1, 2018 and a dual-degree PhD program in chemistry.
In 2017, students' exchange is done in the frame of Erasmus + program.
At the meeting the strategy of inviting researchers from Porto university to RUDN to the posts of leading researchers was discussed.
Another sphere of interest is joint work in space technologies, in particular using the results of space activities in various fields of economy – ecology, agronomy etc.
The agreement is concluded for 5 years with automatic prolongation.
In the frame of the visit the delegation came to the Faculty of Science where professor Fernandu Pereira delivered a lecture. The delegation also visited the Shared Knowledge Center and the Mission Control Center of RUDN IST.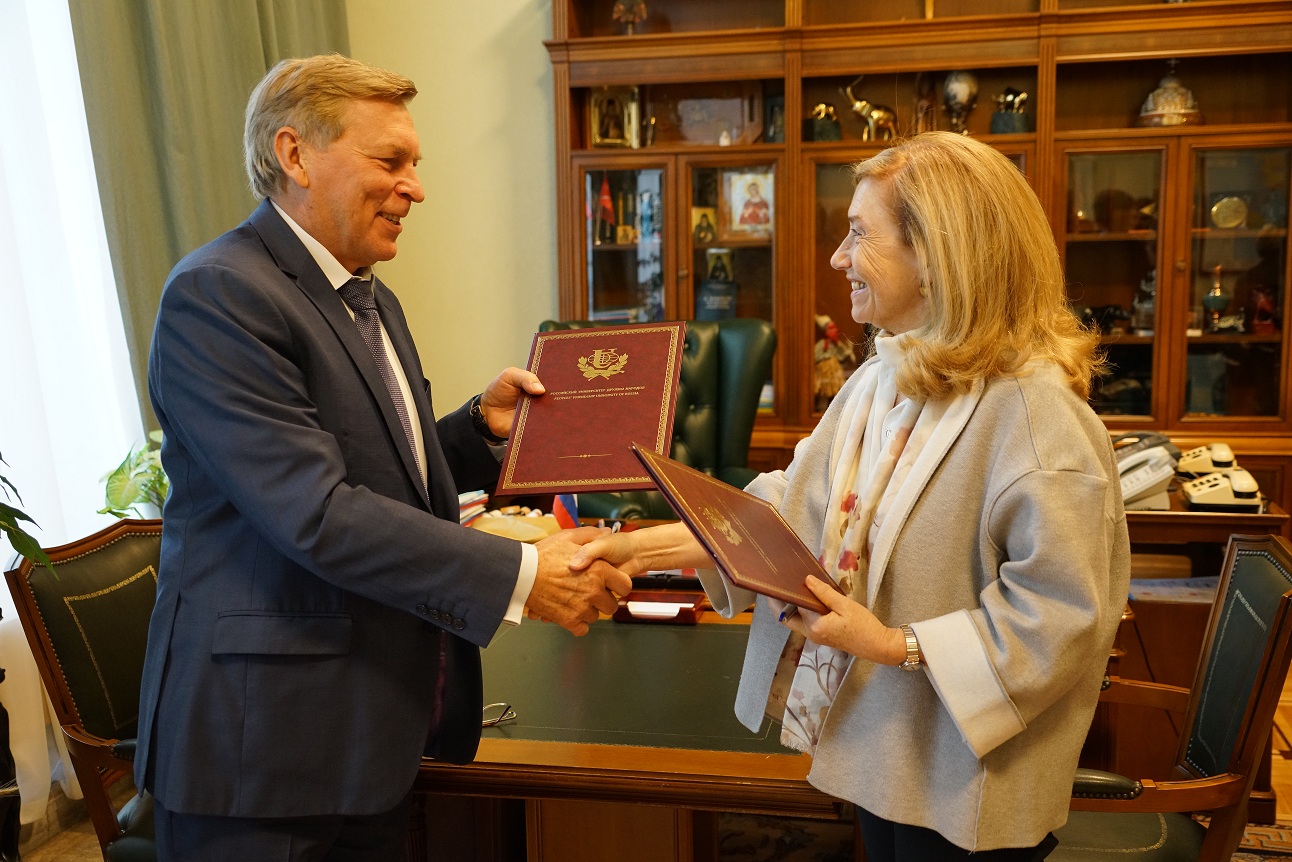 International cooperation
04 Jun
RUDN University took part in EUCEN General Assembly
The Annual General Assembly of the European University Continuing Education Network (EUCEN) was held on May 29, 2020 in a video conference format. On behalf of the RUDN University representatives of the Vice-Rector for International Activities' office participated in the meeting.
International cooperation
29 May
RUDN helps Rosatom to develop cooperation with Africa
In Rwanda, Uganda and Ethiopia representatives of RUDN University and ROSATOM held open lectures on the features of Russian higher education in the field of nuclear energy.
International cooperation
21 May
Meeting of the National Coordinating Committee of the BRICS Network University
On May 20, 2020, RUDN University hosted an online meeting of the National Coordinating Committee (NCC) of the BRICS Network University. The meeting was attended by representatives of the Ministry of Science and Higher Education of the Russian Federation, as well as Russian universities participating in it.