Difficult rise to the base camp, tropical storms and spending the nights in the jungle
Difficult rise to the base camp, tropical storms and spending the nights in the jungle
Professor Oleg Yastrebov, Director of the Law Institute of RUDN University of Russia, conquered the highest point of Australia and Oceania
Professor Oleg Yastrebov, Director of the Law Institute of RUDN University of Russia, conquered the highest point of Australia and Oceania
Puncak Jaya or Carstensz Pyramid the highest point in Australia and Oceania. The mountain is included in the list of "Seven summits" — the highest points in six parts of the world. It was this mountain which was conquered by professor Oleg Yastrebov, Director of the Law Institute of RUDN University.
In the case of Jaya, the most difficult for climbers was not so much climbing, but rather the rise to the base camp through the jungle with tropical rain and damp nights," underlined the Professor. In addition, "injured members of the expedition could not be evacuated by helicopters, and local residents who earn money as cab drivers, often go on strike during the expedition, requiring a great amount of money for their work," he said.
Professor Yastrebov has already conquered Aconcagua (6962 m), Mont Blanc (4810 m), Kilimanjaro (5895 m), Elbrus (5642 m). He has been to the North and South poles of the Earth.
Rise to the highest point requires worked-out skills of climbing and special training. Oleg Yastrebov is an example of someone who is confidently moving towards the aim, and as a result achieves more! We congratulate the professor on the latest victory!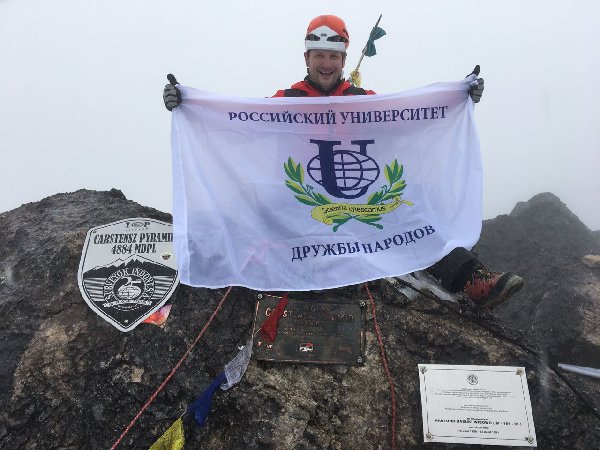 About RUDN
12 Mar
RUDN University is in the top 200 universities in the Times Higher Education ranking Emerging Economies 2021
Peoples' Friendship University of Russia is among the top 200 universities according to the Times Higher Education Emerging Economies University Rankings 2021 (THE Emerging Economies 2021).
Only 606 leading world universities were honored to be on the list.
About RUDN
05 Mar
RUDN University's new successes in the field of modern languages, law, oil and gas business, and computer science ... The university strengthens its position in 11 QS rankings
The QS ranking agency has presented the QS WUR by Subject 2021 rankings — lists of the best universities in the world in specific subjects. RUDN has shown rapid growth in the areas of "Modern Languages", "Linguistics", "Mathematics", "Economics and Econometrics" and "Chemistry", and for the first time entered the list of the best in the world in the subjects "Oil and Gas Business", "Law", " Business and Management ", and "Computer Science".
About RUDN
25 Dec 2020
RUDN University is in the Top 50 of the QS University Rankings: Emerging Europe & Central Asia 2021
RUDN University is on the 43rd place in the QS University Rankings: Emerging Europe & Central Asia 2021. Peoples' Friendship University of Russia has shown the best results in the following categories: international students , student/faculty ratio, institution research collaboration and recruiter review.