RUDN and space: cooperation with RSC "Energia", a presentation of the "Rosteh" Center for Open Innovation
RUDN and space: cooperation with RSC "Energia", a presentation of the "Rosteh" Center for Open Innovation
Rocket and Space Corporation "Energy" and the Peoples' Friendship University of Russia signed an agreement on cooperation.
Rocket and Space Corporation "Energy" and the Peoples' Friendship University of Russia signed an agreement on cooperation. The document was signed at the III All-Russian scientific-practical conference "Problems and prospects of economic development and training of personnel for high-tech industries. RUDN and space: 55 years together. "
The event was held at the Institute of Space Technology of Peoples' Friendship University. At the conference, young professionals, students and representatives of State establishment, business and science exchanged views on the current status and the prospects of economic development of the aerospace industry and other high-tech industries of the Russian Federation.
RUDN and RSC Energia signed an agreement on cooperation in the following areas:
- Development of new training programs, using innovative educational techniques and methods for training specialists, including foreign specialists;
- involvement of the faculty, doctor's degree seekers , post-graduate students and masters of RUDN to participate in training and educational programs and projects of PJSC "RSC" Energy ";
- preparation of highly qualified scientific personnel (PhDs and DSc) from the staff of RSC"Energy";
- mutual information and consulting support in the development and distribution of educational documents, information materials and references.
Another important event of the conference was the official opening in RUDN Center for Open Innovation of State Corporation Rosteh, whose activities are aimed at helping large corporations, research organizations, higher educational institutions, regional and municipal authorities, agencies and other interested organizations in the implementation and development of mechanisms of open innovation.
The Centre has accumulated in its composition professionals who in practice control mechanisms of open innovation in different organizations, and they are ready to share their experience and existing developments with partners. The result of the Centre's activities will be introduced control mechanisms systems of open innovation, including new functionality, business processes, KPIs and many other things.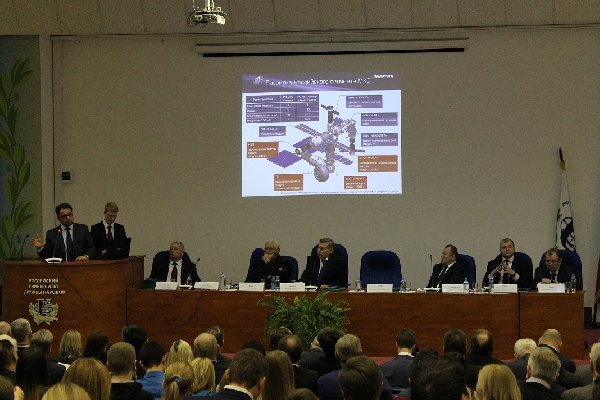 About RUDN
30 Jul
One of the country's leading oncology surgeons appointed Vice-Rector of RUDN
Andrey Kostin, Russian oncologist, Doctor of Medical Sciences, Professor, corresponding member of the Russian Academy of Sciences, became the first Vice-Rector, Vice-Rector for Research at RUDN University.
About RUDN
24 Jun
RUDN University - in the top 150 of the Times Higher Education rankings: Golden Age University Rankings 2020
RUDN has retained its position in the top 150 leading universities in the world in the international ranking — Times Higher Education: Golden Age University Rankings 2020. This is a list of the best universities in the world that were founded between 1945 and 1967.
About RUDN
22 Jun
"In recent years, we have implemented a strategy of switching from "teaching" to "learning""- President of RUDN University Vladimir Filippov