RUDN University - at 326 place among world universities in the QS World University Rankings 2021
RUDN University - at 326 place among world universities in the QS World University Rankings 2021
QS Agency has presented the ranking of the best universities in the world - QS World University Rankings 2021. RUDN University has risen by 66 positions and took 326 place. The university showed a rise in absolutely all categories.
The greatest rise is in the criteria "Academic Reputation": by 138 positions, and "Reputation among employers": 112 positions up compared to last year.
There are more than 25,000 higher education institutions in the world, and the top thousand are rated in the QS ranking. RUDN University is in 326 place. In 2021, 28 Russian universities were included in the QS World University Rankings 2021.
In five years, RUDN has almost doubled the results in the QS rating, rising by 324 positions. Only a few universities in the world have achieved such success in terms of speed of advancement.
Traditionally, RUDN University has retained leadership in the share of international students, receiving 95 points out of 100 possible.
Particularly notable success was achieved in the category of recognition among employers. In 2019, 225 employers held 50 events for RUDN graduates in 35 countries. Among RUDN new employers are Nestle, Hyundai, Microsoft, Mail.ru Group, PepsiCo, Danone. 602 international students underwent internship abroad and in foreign companies in Russia. 153 international students from 61 countries received job offers thanks to university assistance. Such success was made possible by 59 associations of RUDN University graduates, the International Club of Alumni and Friends of RUDN University and the International Club of Employers, which includes 253 companies from 28 countries. In October 2019, RUDN festival "I want to work in Africa!" was held for the first time immediately after the Russia-Africa summit in Sochi. The university was visited by more than 70 business missions, more than 800 students and graduates took part in the festival events.
"Now the team is working on a new development program for the next five years. Special emphasis will be placed on promoting academic reputation, developing the potential of RUDN University both in exporting Russian education and in promoting scientific achievements," said President of RUDN University Vladimir Filippov.
This year, Peoples' Friendship University of Russia has shown an increase in absolutely all indicators of the QS WUR 2021 ranking, including the criteria "Academic reputation", "Citations per paper", "International faculty" and " Student/faculty ratio".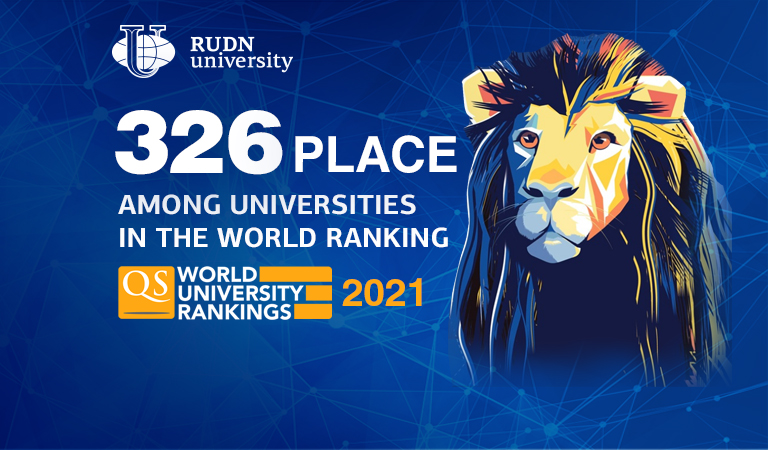 About RUDN
02 Nov
RUDN chat in WhatsApp
RUDN started an official chat for you to ask about enrolment in RUDN, studies, accommodation, as well as order a certificate or find contact information.
About RUDN
30 Oct
RUDN strengthens its position among the best universities in the world
RUDN University is represented in 9 directions of the international ranking of the best universities in the world THE World University Rankings by Subject 2021, this year, for the first time, reflecting the successes of RUDN University in the areas of "Education", "Art and Humanities" and "Life Sciences". According to "Education" indicator RUDN is in the top 200.
About RUDN
30 Jul
One of the country's leading oncology surgeons appointed Vice-Rector of RUDN
Andrey Kostin, Russian oncologist, Doctor of Medical Sciences, Professor, corresponding member of the Russian Academy of Sciences, became the first Vice-Rector, Vice-Rector for Research at RUDN University.