RUDN University received the maximum "5 stars" of the QS Stars international ranking. 5 stars is an indicator of the highest quality of not only hotels and restaurants, but also universities, only three Russian universities having such high praise.
The international QS Stars ranking has assigned 5 quality stars to RUDN. Peoples' Friendship University of Russia has the highest scores for six out of eight indicators. The breakthrough occurred, in particular, in "Employability". Significantly increased results are witnessed in the category "Teaching" - by 3 points. The success of RUDN University in the field of "Academic Development" ensured 2nd place among all Russian universities.
A total of 13 Russian universities are included in the QS Stars ranking, and only 3 of them have 5 stars: RUDN University, MGIMO and Plekhanov Economic University.
QS Stars ranking results are announced every 3 years. Positions will be updated following the results of 2020-2023.
In 2016, RUDN University received 5 stars in 5 categories, but the overall condition was rated as 4.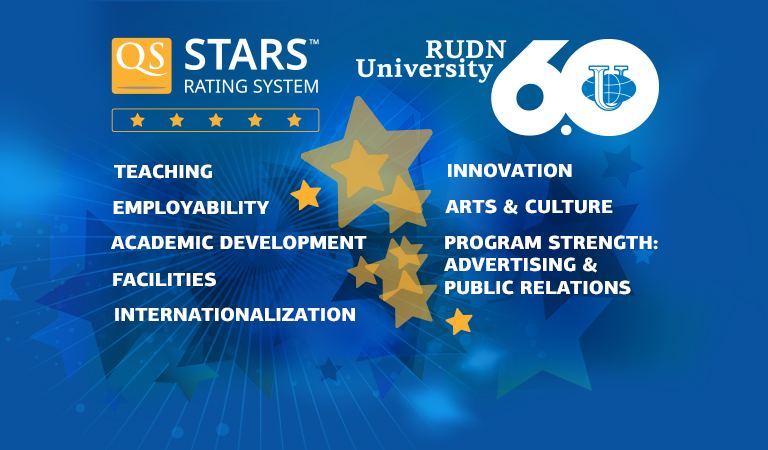 About RUDN
30 Jul
One of the country's leading oncology surgeons appointed Vice-Rector of RUDN
Andrey Kostin, Russian oncologist, Doctor of Medical Sciences, Professor, corresponding member of the Russian Academy of Sciences, became the first Vice-Rector, Vice-Rector for Research at RUDN University.
About RUDN
24 Jun
RUDN University - in the top 150 of the Times Higher Education rankings: Golden Age University Rankings 2020
RUDN has retained its position in the top 150 leading universities in the world in the international ranking — Times Higher Education: Golden Age University Rankings 2020. This is a list of the best universities in the world that were founded between 1945 and 1967.
About RUDN
22 Jun
"In recent years, we have implemented a strategy of switching from "teaching" to "learning""- President of RUDN University Vladimir Filippov