Students of the leading Korean universities invited to RUDN University to discuss cooperation with the Russian youth. RUDN University hosts VII Russian-Korean Youth Dialogue
Students of the leading Korean universities invited to RUDN University to discuss cooperation with the Russian youth. RUDN University hosts VII Russian-Korean Youth Dialogue
July 5, VII Russian-Korean Youth Dialogue officially opened in RUDN University.
July 5, VII Russian-Korean Youth Dialogue officially opened in RUDN University. Students from the leading Korean universities came to RUDN to discuss cooperation between young people of the two countries in the frame of the forum "Dialogue Russia- Korean Republic" aimed at developing strategic partnership and activating bilateral cooperation channels. This year the dialogue was joined by students from MSU and SPSU. Korea was represented by 10 universities including Seoul university.
The idea originated in 2008, when President Lee Myung-bak visited St. Petersburg State University and at meeings with the administration it was agreed to start a forum. The idea was supported by President Medvedev and the parties agreed to hold the forum in Russia and Korea taking turns.
This year it was the turn of RUDN University. First Vice-Rector Nur Kirabaev welcomed the participants and stressed that the forum demonstrates strengthening realtions between young people of the two countries.
The students discussed the following topics:
1. New trends in youth policy;
2. Hi-tech in cooperation between Russian and Korean young people;
3. Joint educational programs.
"5 days is not a long time but I hope that the forum will make Korean and Russian young people friends", said Chun Sungmin, Director of VII Russian – Korean Dialogue. The Embassy of the Republic of Korea is interested in developing such relations. Minister Ha The Yok attended the opening and addressed the young people: "Both governments are striving to find new ways to develop relations. Russia is a country of opportunities for Korea and an important strategic partner. I want you to take this chance and make the best out of this forum".
During the event the guests got acquainted with the history of RUDN University and saw a presentation on Russian-Korean relations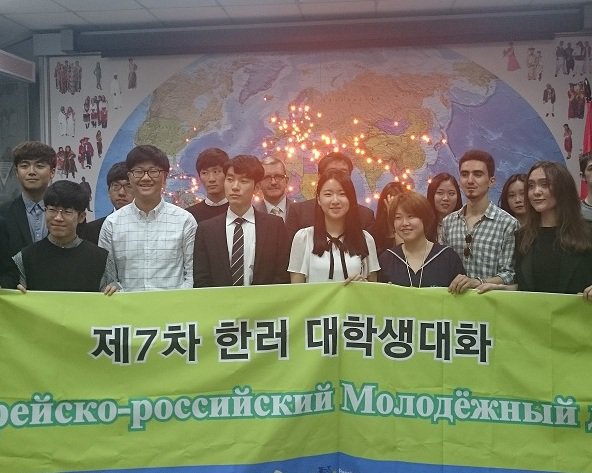 About RUDN
30 Jul
One of the country's leading oncology surgeons appointed Vice-Rector of RUDN
Andrey Kostin, Russian oncologist, Doctor of Medical Sciences, Professor, corresponding member of the Russian Academy of Sciences, became the first Vice-Rector, Vice-Rector for Research at RUDN University.
About RUDN
24 Jun
RUDN University - in the top 150 of the Times Higher Education rankings: Golden Age University Rankings 2020
RUDN has retained its position in the top 150 leading universities in the world in the international ranking — Times Higher Education: Golden Age University Rankings 2020. This is a list of the best universities in the world that were founded between 1945 and 1967.
About RUDN
22 Jun
"In recent years, we have implemented a strategy of switching from "teaching" to "learning""- President of RUDN University Vladimir Filippov