«We need not only volunteers but young lawyers, doctors, interpreters and diplomats», says Mr Miguel Angel Villarroel Sierraalta, Vice-President of the International Federation of Red Cross and Red Crescent Societies (IFRC)
«We need not only volunteers but young lawyers, doctors, interpreters and diplomats», says Mr Miguel Angel Villarroel Sierraalta, Vice-President of the International Federation of Red Cross and Red Crescent Societies (IFRC)
1 March, representatives of IFRC, including national societies of Italy, Russia and Serbia, and experts in the field of migration got together at the round table «Global and regional aspects of population migration. Humanitarian challenges and interaction directions» organized by RUDN Department of international law and All-Russia society «Russian Red Cross».
The event was opened by RUDN Vice-Rector for continuing education A.Dolzhikova, who said that migration today influences political landscape of countries and continents. Miguel Villarroel, Vice-President of the International Federation of Red Cross and Red Crescent Societies (IFRC) noted the importance of RUDN students and staff's readiness to help experts solve various problems in work with migrants.
Professor Aslan Abashidze, Head of RUDN Department of international law noted that we should stream forced migrants into categories to solve global security problems and improve the situation in a number of countries – Nepal, Somalia and Bangladesh. Young researchers from PUDN presented results of their work on interregional cooperation in Africa, Asia, problems of children-migrants etc.
Among key aims of the round table are efforts collaboration and exchange of experience. One of the outcomes was the invitation of associate professor A.Pokrovskaya to Italy to participate at the Forum on antibiotics and hospital infections.
Mr. Villarroel delivered a lecture «The activity of Red Cross and Red Crescent in the context of humanitarian challenges. Strategic approaches in migration».
15 volunteers, students of the Department of international law helped at the round table with participation of more than 40 Russian and foreign experts on migration. The event is considered to have serious economic, scientific and cultural potential.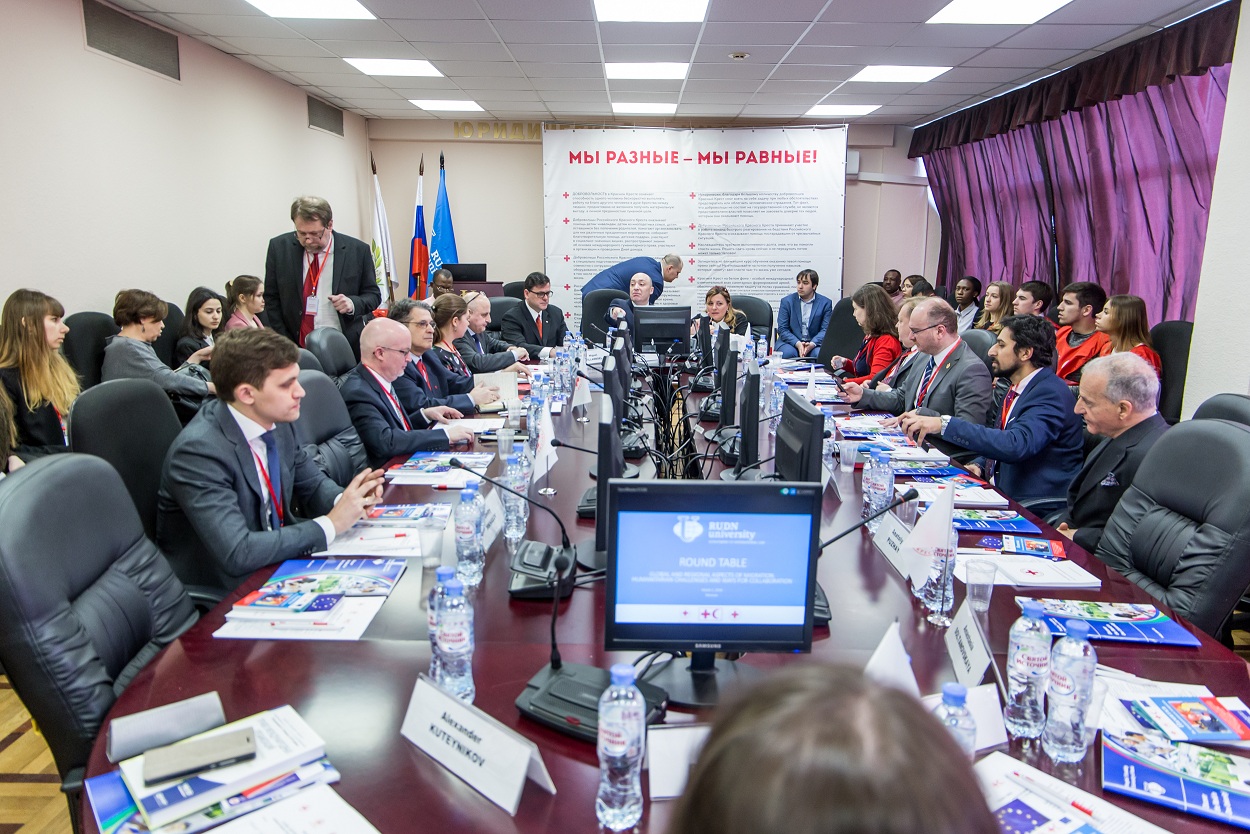 International cooperation
19 Oct
RUDN University and Hebei University of Engineering - a new joint educational project
Vice-Rector for International Affairs of RUDN University Larisa Efremova held negotiations with representatives of Hebei University of Engineering and the International Corporation "Eurasia". The parties came to a decision to create a joint project — the Polytechnic Institute of Hebei University of Engineering and Peoples' Friendship University of Russia.
International cooperation
12 Oct
The first in the history of QS "Languages and migration in the context of globalization" subject summit on modern languages and linguistics held at the RUDN University in December 2020
December 15-17, 2020, the first QS Subject Focus Summit will be held at the RUDN University in the subject areas "Modern Languages" and "Linguistics". The on-line summit will focus on research in languages, linguistics and migration in the context of globalization and will be attended by 300 leading linguists and specialists on migration issues from 50 countries.
International cooperation
17 Sep
"In a consortium, as well as in any association, it is always necessary to find a middle ground so that the interests of each partner are respected" Larisa Efremova, Vice-Rector of RUDN University for International Affairs
September 16, Larisa Efremova took part in the panel discussion "Partnerships, consortia and network interactions in a new educational reality". The topic of consortia was discussed by heads and experts from leading Russian universities.