«We need not only volunteers but young lawyers, doctors, interpreters and diplomats», says Mr Miguel Angel Villarroel Sierraalta, Vice-President of the International Federation of Red Cross and Red Crescent Societies (IFRC)
«We need not only volunteers but young lawyers, doctors, interpreters and diplomats», says Mr Miguel Angel Villarroel Sierraalta, Vice-President of the International Federation of Red Cross and Red Crescent Societies (IFRC)
1 March, representatives of IFRC, including national societies of Italy, Russia and Serbia, and experts in the field of migration got together at the round table «Global and regional aspects of population migration. Humanitarian challenges and interaction directions» organized by RUDN Department of international law and All-Russia society «Russian Red Cross».
The event was opened by RUDN Vice-Rector for continuing education A.Dolzhikova, who said that migration today influences political landscape of countries and continents. Miguel Villarroel, Vice-President of the International Federation of Red Cross and Red Crescent Societies (IFRC) noted the importance of RUDN students and staff's readiness to help experts solve various problems in work with migrants.
Professor Aslan Abashidze, Head of RUDN Department of international law noted that we should stream forced migrants into categories to solve global security problems and improve the situation in a number of countries – Nepal, Somalia and Bangladesh. Young researchers from PUDN presented results of their work on interregional cooperation in Africa, Asia, problems of children-migrants etc.
Among key aims of the round table are efforts collaboration and exchange of experience. One of the outcomes was the invitation of associate professor A.Pokrovskaya to Italy to participate at the Forum on antibiotics and hospital infections.
Mr. Villarroel delivered a lecture «The activity of Red Cross and Red Crescent in the context of humanitarian challenges. Strategic approaches in migration».
15 volunteers, students of the Department of international law helped at the round table with participation of more than 40 Russian and foreign experts on migration. The event is considered to have serious economic, scientific and cultural potential.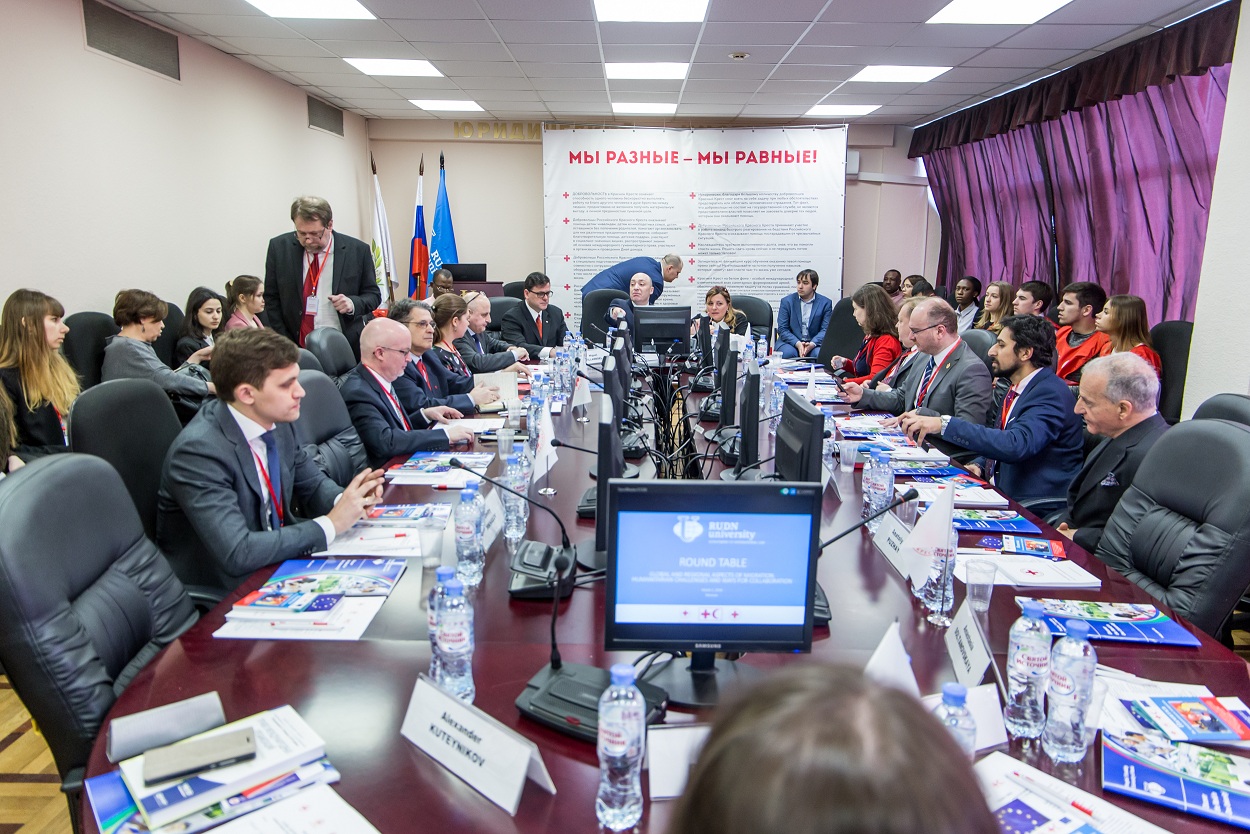 International cooperation
12 Feb
They trust us: RUDN University will train specialists for 160 countries
More than 70 representatives of the embassies of foreign countries in Russia, representatives of the Federation Council, and the Ministry of Science and Higher Education of the Russian Federation took part in the round table "The contribution of RUDN University to training national personnel for foreign countries." The event was held on February 5, in an online format and was timed to celebrate the 61st anniversary of RUDN University.
International cooperation
24 Dec 2020
The first QS Subject Focus Summit "Languages and Migration in the Context of Globalization" held at RUDN University
December 15, on the basis of RUDN University, the first QS subject summit in the areas of "Modern Languages" and "Linguistics" started. The topic of the QS Subject Focus Summit is "Languages ​​and Migration in the Context of Globalization".
International cooperation
23 Dec 2020
First-hand: more than 1,000 schoolchildren of resource centers at the exhibition "Time to Study in Russia"
During the first hour of work, 1,000 schoolchildren from resource centers in Mongolia, Syria, Turkey, Bulgaria, Tajikistan, Moldova and Kyrgyzstan visited the online exhibition "Time to Study in Russia". On December 17, the online opening of the exhibition took place at RUDN University site.