FS RUDN team - absolute leader in the overall standings of «Formula student» Russian stage
FS RUDN racing team has become an absolute leader in the overall standings of «Formula student» Russian stage and took first prizes in Acceleration, Autocross and Endurance. FS RUDN – Champions of Russia 2017 in «Formula student».
The competition took place 21 - 23 September, 2017, and brought together 12 best teams from Russia and Europe. It was organized by the Department of science, industrial policy and entrepreneurship of Moscow in cooperation with SMP Racing, Power Wheels, Rosatom, Association of Automobile Engineers, Certina, ISIC, 5th Wheel, Popular Mechanics, Dni.Ru, Moskva-24, m24.ru, Aktualnaya Moskva.
Participants:
FS RUDN (RUDN, Moscow)
Bauman Racing Team (Bauman University, Moscow)
FDR Moscow (Moscow Polytechnic Institute, Moscow)
FS MADI (Moscow Automobile and Road University, Moscow)
Formula Electric MADI (Moscow Automobile and Road University, Moscow)
Togliatti Racing Team (TSU, Togliatti)
Shukhov Racing Team (Shukhov Technical University, Togliatti)
Dream Style Garage (Nosov Technical University, Magnitogorsk)
Neftegaz Engineering (TEU, Tyumen)
NCM Polytech (SPPU, St.Petersburg)
TU BRNO Racing (Brno, Czech)
FS Team Tallin (Tallinn, Estonia)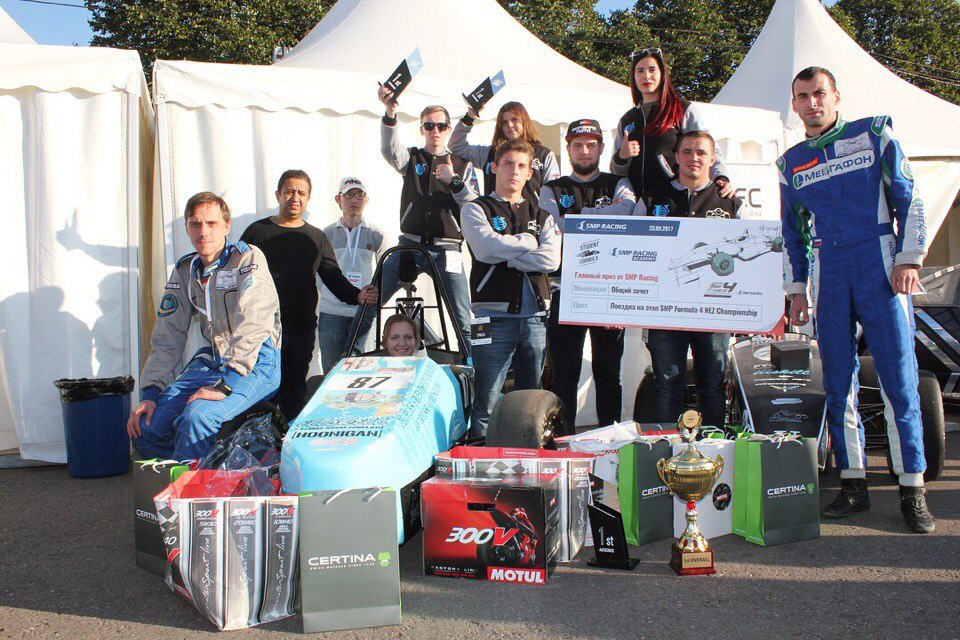 Science
20 Oct
RUDN chemist created an efficient catalyst for organic sulfides synthesis
A RUDN chemist has obtained a new compound — a dumbbell-shaped phosphate-bridged molybdenum cluster. The cluster accelerates the reaction of the formation of sulfides from oxides and can be used in pharmaceutical and cosmetic manufacturing.
Science
19 Oct
RUDN University mathematicians created a method for study the properties of porous materials
Mathematicians from RUDN University have studied the properties of compositional operators in spaces with mixed Lebesgue norms. It will help describe the diffusion of liquids in materials with cracks and in porous materials. Such spaces are also useful for obtaining estimates for solutions to the Navier-Stokes equation.
Science
09 Oct
RUDN University biophysicist modelled the behaviour of cell microtubule elements to chemically affect their growth and decay
A biophysicist from RUDN University and his colleagues modelled the molecular dynamics of growth of microtubules, the most important elements of cell activity. The researchers have built a model for the interaction of microtubule subunits, which takes into account their internal and external connections. The results will help form a more complete model of the dynamic instability of microtubules. It will allow choosing chemical agents for the treatment of certain diseases, including neoplasms and neurodegenerative pathologies.