The Institute of Applied Mathematics and Telecommunications holds the IX International Congress of Ultra Modern Telecommunications and Control Systems ICUMT in Munich (Germany)
The delegation of RUDN Institute of Applied Mathematics and Telecommunications headed by professor K.Samuilov attended the IX International Congress of Ultra Modern Telecommunications and Control Systems in Munich (Germany).
6 - 8 November, 2017, RUDN University, Brno Technological University (Czech) and Tampere Technological University (Finland) held the IX International Congress on Ultra Modern Telecommunications and Control System, ICUMT (http://www.icumt.info/2017/).
The Congress is traditionally held with the support of IEEE (Institute of Electrical and Electronics Engineers), the materials being published in a collection of articles indexed in Web of Science, Scopus and IEEE Xplore.
The meetings were held in the frame of two main tracks – telecommunications and control as well as workshops. One of them - the International Workshop on Applied Problems in Theory of Probabilities and Mathematical Statistics, APTP+MS, has long been held by RUDN and the RAS Federal Research Center «Informatics and Control».
RUDN delegation comprising 15 people delivered 18 reports reflecting results of research projects («Advanced research of 5G wireless IoT nets» supervised by K.Samuilov, «Elaboration of mathematic models and their analysis methods for IoT infrastructure functioning quality assessment» supervised by Y.Orlov and Y.Gaidamak, «Computer modeling and computational-analytical methods of research of complex physical and technical systems and info-communicational technologies» supervised by A.Kryanev and L.Sevastianov) and presented results of research of the Center for modeling hi-tech systems and info-communications.
In 2017, the Congress is organized in the frame of 5-100 Project.
We invite you to participate in ICUMT in October 2018, at RUDN University!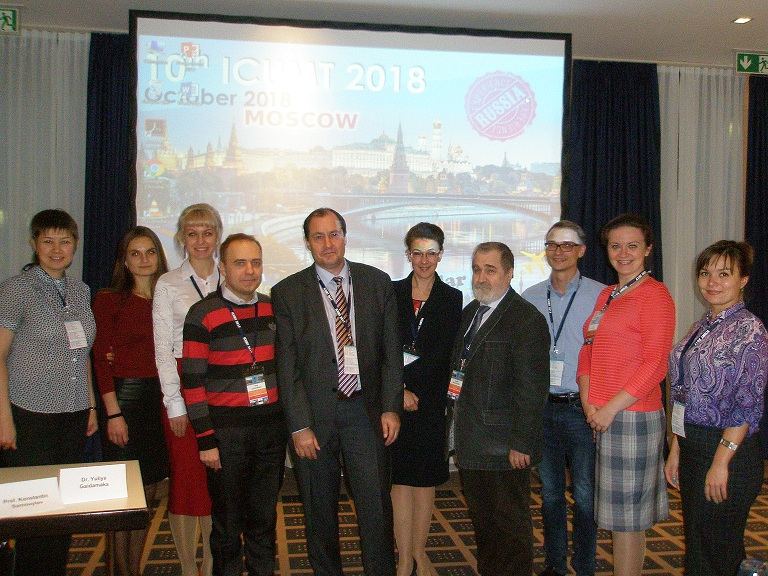 Science
27 Nov
RUDN professor Yakov Kuzyakov is recognized as one of the most cited scientists in the world
Yakov Kuzyakov, a well-known soil scientist, a leading scientist at RUDN Agricultural and Technological Institute and a professor at the King Saud University, has been awarded the title of highly cited researcher in the field of agricultural sciences (according to Clarivate).
Science
20 Oct
RUDN chemist created an efficient catalyst for organic sulfides synthesis
A RUDN chemist has obtained a new compound — a dumbbell-shaped phosphate-bridged molybdenum cluster. The cluster accelerates the reaction of the formation of sulfides from oxides and can be used in pharmaceutical and cosmetic manufacturing.
Science
19 Oct
RUDN University mathematicians created a method for study the properties of porous materials
Mathematicians from RUDN University have studied the properties of compositional operators in spaces with mixed Lebesgue norms. It will help describe the diffusion of liquids in materials with cracks and in porous materials. Such spaces are also useful for obtaining estimates for solutions to the Navier-Stokes equation.