The Institute of Applied Mathematics and Telecommunications holds the IX International Congress of Ultra Modern Telecommunications and Control Systems ICUMT in Munich (Germany)
The delegation of RUDN Institute of Applied Mathematics and Telecommunications headed by professor K.Samuilov attended the IX International Congress of Ultra Modern Telecommunications and Control Systems in Munich (Germany).
6 - 8 November, 2017, RUDN University, Brno Technological University (Czech) and Tampere Technological University (Finland) held the IX International Congress on Ultra Modern Telecommunications and Control System, ICUMT (http://www.icumt.info/2017/).
The Congress is traditionally held with the support of IEEE (Institute of Electrical and Electronics Engineers), the materials being published in a collection of articles indexed in Web of Science, Scopus and IEEE Xplore.
The meetings were held in the frame of two main tracks – telecommunications and control as well as workshops. One of them - the International Workshop on Applied Problems in Theory of Probabilities and Mathematical Statistics, APTP+MS, has long been held by RUDN and the RAS Federal Research Center «Informatics and Control».
RUDN delegation comprising 15 people delivered 18 reports reflecting results of research projects («Advanced research of 5G wireless IoT nets» supervised by K.Samuilov, «Elaboration of mathematic models and their analysis methods for IoT infrastructure functioning quality assessment» supervised by Y.Orlov and Y.Gaidamak, «Computer modeling and computational-analytical methods of research of complex physical and technical systems and info-communicational technologies» supervised by A.Kryanev and L.Sevastianov) and presented results of research of the Center for modeling hi-tech systems and info-communications.
In 2017, the Congress is organized in the frame of 5-100 Project.
We invite you to participate in ICUMT in October 2018, at RUDN University!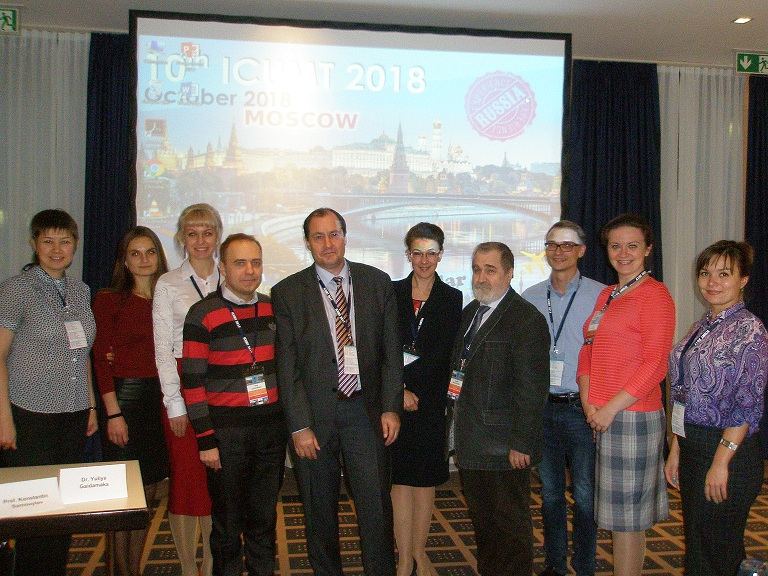 Science
02 Mar
Highest recognition of scientific merits to the university: congratulations to the winners of RUDN University prize in the field of science and innovation
February 15, RUDN University annual award in the field of science and innovation was presented. The highest award of the university was received by associate professor of the Faculty of Science Fyodor Zubkov and the team of authors of the Law Institute: Aslan Abashidze, Alexander Solntsev and Denis Gugunsky.
Science
23 Feb
Start of the Year of Science and Technology: RUDN is ready for the year of science
Mathematics, chemistry, physics, medicine and modern languages - there are five priority areas of development at RUDN University along the path of a research university. RUDN University has a developed laboratory base, it encourages publication activity, forms teams of scientists and educates talented young researchers.
Science
18 Feb
RUDN University physicists analyzed the role of gravity in elementary particles formation
Gravity might play a bigger role in the formation of elementary particles than scientists used to believe. A team of physicists from RUDN University obtained some solutions of semi-classical models that describe particle-like waves. They also calculated the ratio between the gravitational interaction of particles and the interaction of their charges.