The Institute of Applied Mathematics and Telecommunications holds the IX International Congress of Ultra Modern Telecommunications and Control Systems ICUMT in Munich (Germany)
The delegation of RUDN Institute of Applied Mathematics and Telecommunications headed by professor K.Samuilov attended the IX International Congress of Ultra Modern Telecommunications and Control Systems in Munich (Germany).
6 - 8 November, 2017, RUDN University, Brno Technological University (Czech) and Tampere Technological University (Finland) held the IX International Congress on Ultra Modern Telecommunications and Control System, ICUMT (http://www.icumt.info/2017/).
The Congress is traditionally held with the support of IEEE (Institute of Electrical and Electronics Engineers), the materials being published in a collection of articles indexed in Web of Science, Scopus and IEEE Xplore.
The meetings were held in the frame of two main tracks – telecommunications and control as well as workshops. One of them - the International Workshop on Applied Problems in Theory of Probabilities and Mathematical Statistics, APTP+MS, has long been held by RUDN and the RAS Federal Research Center «Informatics and Control».
RUDN delegation comprising 15 people delivered 18 reports reflecting results of research projects («Advanced research of 5G wireless IoT nets» supervised by K.Samuilov, «Elaboration of mathematic models and their analysis methods for IoT infrastructure functioning quality assessment» supervised by Y.Orlov and Y.Gaidamak, «Computer modeling and computational-analytical methods of research of complex physical and technical systems and info-communicational technologies» supervised by A.Kryanev and L.Sevastianov) and presented results of research of the Center for modeling hi-tech systems and info-communications.
In 2017, the Congress is organized in the frame of 5-100 Project.
We invite you to participate in ICUMT in October 2018, at RUDN University!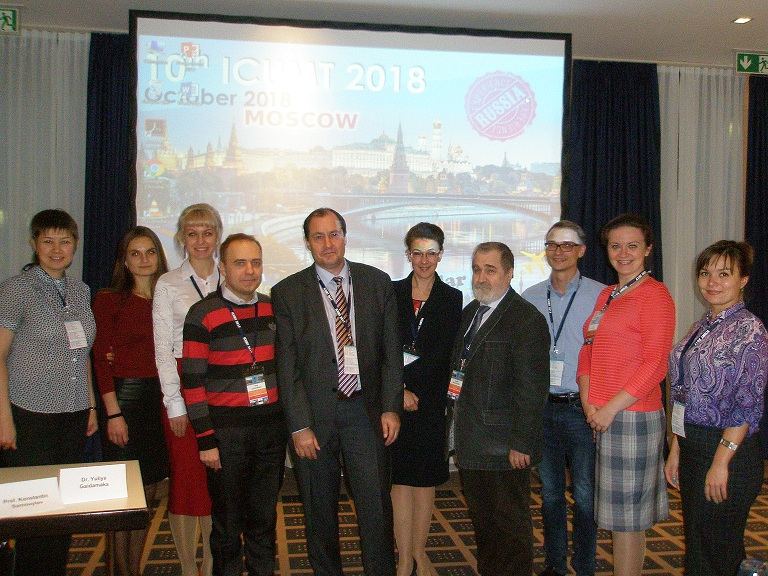 Science
27 Apr
Vocabulary Size Affects One's Ability to Differentiate Between Vowels in a Foreign Language, Say Linguists from RUDN University
A team of linguists from RUDN University established that a person's ability to accurately differentiate between vowel sounds of a foreign language correlates with the size of their vocabulary in said language.
Science
22 Apr
A Bifidobacterial Protein Capable of Reducing Inflammation in Patients with COVID-19 and Other Diseases Was Discovered by a RUDN University Geneticist
A geneticist from RUDN University studied the effect of Bifidobacterium (intestinal bacteria) on the inflammatory process and discovered that their surface protein is capable of stopping excessive or uncontrollable inflammation, like the one observed in COVID-19 patients. A fragment of this protein can be used as an anti-inflammatory medication when treating coronavirus and other diseases.
Science
13 Apr
RUDN University mathematician suggested new approach to cooperative game
A mathematician from RUDN University developed a matrix representation of set functions. This approach is vivid and easy to check, and it makes the calculations easier. Among other things, the new development can be applied to cooperative game theory.